13.OCTOBER.15
I must apologize for the delay in posting. I have been a little out of commission as of late. I've been doing my best to stay healthy since February and last week, Stan came home complaining of feeling ill.  This is how I picture I got sick. (Though it'd reversed, of course)
Long story, short, I've been sick for about a week now. I've been slowly unpacking but it's not going as efficiently as I had expected. I forced myself to not decorate until everything was unpacked…not sure that was the best call.
but our things indeed arrived.
And long story short: I finally did it! I successfully unpacked everything that needed to be.
Check out my progress below…

Fortunately we only had two casualties, three including my nails 😛 And now, I can finally start decorating!!
This past weekend, I got a little stir crazy and sick of being sick, so we went to Bisbee as a way to prepare ourselves for the race. (Did I mention that we signed up for the Bisbee1000. It's similar to a 5k, but with 4 and a half miles instead of 3.1 mile, plus 9 staircases which add up to 1000 steps.) I'll explain more when we actually accomplish it. But let me tell you, it's no small feet… eh eh?? See what I did there? 😛
But let me back up. Manny was kind enough to allow us to stay with her for two weeks while all our ducks were being aligned. After those two weeks Annie and her dog, Zek became good ol' pals.

 So, we have some pros and cons about our new home. Fortunately, most of the PROS out weigh the CONS.
PRO: our house is beautiful, we can actually see the family room from the upstairs balcony.
CON: our appliances aren't as great as in Fort Irwin.
The dishwasher doesn't dry dishes and our shower head sprays around us instead of directly onto our heads.
PRO: We have beautiful GREEN LAWNS, TREES and a MOUNTAIN right outside our door.
With really cool wildlife, bears, bobcats, mountain lions, boars and deer.
CON: I'm afraid of letting Annie outside without me and I'm terrified of running into a tarantula!
Above all else, the major CON is that I miss all my CWOC friends, but I have been hanging out a lot with Manny
and the people around here seem like they could be nice….our neighbors haven't complained about Annie's barking…yet.
oh and another con in the butt, is that our mailbox key got stuck in the mailbox the first time I checked our mail and it's been in there ever since…but we did get mail 🙂

We enjoyed our first feast in our new abode over netflix.

I also bought some essentials on our first trip to the grocer.

I found this little gem while exploring our new PX…I didn't buy it, I just admired the packaging.

Also, contrary to popular belief, it's a bit colder here, so I bought myself some slippers!

So, back to Bisbee, Manny, Stan and I took a trip to Bisbee to do a test  run for the The Great Stair Climb.
And we decided to take our babes along with us.

Notice how comfortable Annie has gotten with Zek…
We tried finding staircase #1, but just ended up starting with #8 and ending with #9.

After our 225 step challenge, Manny took us over to the Bisbee Brewery for a much needed treat.

On Sunday, we went to see The Martian. Stan really wanted to see it, me..not so much. I know this is one of those things you don't say out loud but I'm not a huge fan of Matt Damon…. Don't ex out! I just think he does a lot of heavy movies. Like, Stan wanted to see Elysium…but I digress. Let me just say, I was pleasantly surprised. It was a bit claustrophobic at points and a little long. But overall, an enjoyable watch and I must say, I never wanted a potato more in my life.

And speaking of reviews, did anyone catch AHS: Hotel? I must say, the jury is still out for me. Since this is only week one and if you recall from my Ode to American Horror Story the first episode of the each season has the habit of leaving a bad taste in my mouth 😛 Overall, aside from the gore and the occasional familiar face, I didn't really feel like this was American Horror Story. I was talking with one of my past roommates and she said that Lady Gaga "doesn't have that 'it' that Jessica Lange possesses." Of course, no one can really replace, Ms. Lange but I for one, will wait until I see episode 2 and 3 to really decide, but I do agree that so far I'm not so sure about The Countess.

So, I took a really cool political quiz online. Make sure to check it out. Stan showed it to me and it really makes you think. Sadly, I'm not alone in writing this, but I'm not up to date on my politics. I never used to read up on the issues or really the candidates. My mom hates it when I say this, but I never really felt like it mattered much.
I just feel like they're all …not crooks… but definitely in it for the wrong reasons.
But let me clarify, I always make it a point to vote, even absentee,  since it is my right,
a right that our suffragette sisters fought for so fiercely.
I'm partly content with the results, happy with one but I'm majorly embarrassed with one of them!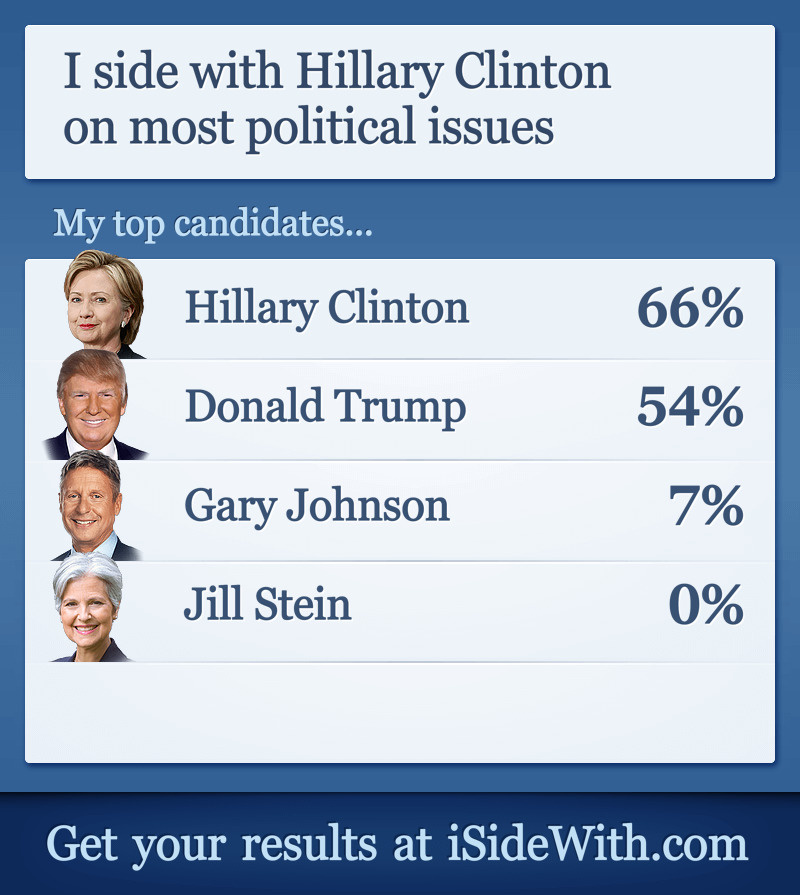 Oh, and I also found a small way to show my support to Breast Cancer Awareness Month.
Well, I better get back to work.

Thank you for keeping up with me during my absence
and
Thank You even more for reading this.

A friend of mine, posted this to facebook and I just thought I should share: